I touched on a few prospects who would be making the trip to AA for the Northwestern game in the latest edition of Recruitaholics. A few more names have been confirmed to visit, a couple of them highly rated and very talented. The significance of this game is huge for all in attendence, but Leon McQuay III is by far the most crucial. This is (more than likely) the last oppurtunity Hoke and company will have to blow McQuay and his parents away. The two most important recruiters of the weekend though...Jack Kennedy and Rey Reynolds or as McQuay may know them "JDK and Rey," which I'm sure we will hear plenty of at the game.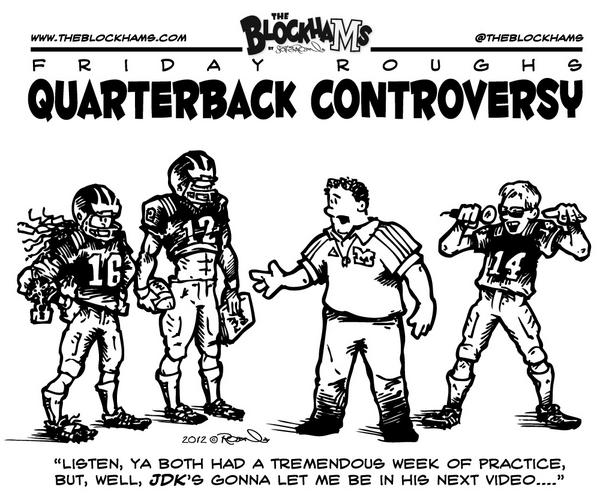 You can't blame Hoke for making this decision can you? Image via here
Northwestern

Attendees
QB Shane Morris
- who don't forget is
very much looking forward
to getting his last chance to make the visitor below go blue.
S Leon McQuay III -
Sam Webb
gets answers from McQuay III
and his parents on matter involving his current commitment, how is last visit to AA went, and how much a good music program will play into his decision along with so much more
'14 S Parrker Westphal
'14 WR Derek Kief
'14 WR/TE Ian Bunting
'14 QB Andrew Ford
Can't wait to visit #Michigan on Saturday and see the Big House for the first time! #GoBlue!
— Andrew Ford (@Andrew_Ford7) November 6, 2012
'14 DE/TE Garrett Dickerson
Too hype for Michigan this weekend with @ralphdickerson ! #UM #GoBlue
— Garrett Dickerson (@Senor_Ocho) November 8, 2012
'14 DT Bryan Mone
- teammate of '12 commit FB Sione Hauma who may be rated a little higher if it weren't for his location out west.
Bryan Mone isn't the most ballyhooed of #Michigan's 2014 targets, but he was the 1st to be offered
— Sam Webb (@SamWebb77) November 9, 2012
Mone has drawn comparisons at his school to fellow Highland high alum, Haloti Ngata
— Sam Webb (@SamWebb77) November 9, 2012
'14 ATH Dareian Watkins
'14 TE Kyle Rachwal
'14 DT Daniel Cage
'14 DE Zach Evans
'14 RB Jamitreus Crockham
'14 WR Nate Hall
'14 DT Logan Dziak
'15 S Cario Dawson
'15 WR Ray Buford
Tremendous also has
a list of his own
with few extra names who will be up for the game Saturday.