This Week: Commits in Action, Prospects in Action, A New Offer, Northwestern Game Reactions, and coming back after a two week hiatus, Sayonara Suckas
A Man Amongst Boys
S Dymonte Thomas
is a BEAST!
Boy: Left....Man: Right Image via here
That is all.
Commits in Action
Ok, we've all seen what
DB Channing Stribling
is rated and how he was very underrated coming into his senior season. And I've had an update of his performance almost every weekend for you Recruitaholics, and I think it's time to make a change to his rating. He has been spectacular this season and he put his talent on full display once again (and added more to the argument of a better rating) in last week's playoff game: 3 catches for 102 yards and 2 TD's, a kick return TD, 2 tackles, and an 82 yard picksix!! So let's get on these analyst who make the rankings and petition for a change. It is much deserved and well overdue!
WR Jaron Dukes
helped his Marion-Franklin pick up victory by recording a late TD to put the game out of reach.
Check it out here
at the 9:45 mark.
TE Jake Butt
and Pickerington North moved on to the state championship defeating Hilliard Darby 24-14. Michigan's other TE commit
Khalid Hill
was not able to move on the next round. Next time he puts on a jersey, it will be Maize and Blue!
LB Michael Ferns
and St. Clairsville (OH) remained undefeated and moved on the elite 8.
LB Mike McCray
and
DB Ross Douglas
also moved on to the next round. Douglas did suffer an injury but claims that he will be fine.
LB Ben Gedeon
was a big help in leading his team, Hudson (OH), move past Whitmer (OH) in last week's playoff match-up. Gedeon had two TD's on offense and no stats were found on his defensive performance. Now, Michigan wants him at LB, but look at these comments from Josh Newkirk, who took in the game on Friday:
I know Gedeon is a LB commit, but he can run some people over...just saying
— Josh Newkirk (@JoshNewkirk7) November 11, 2012
Gideon runs for a first down in the wildcat. Once he gets going, he is a freight train.
— Josh Newkirk (@JoshNewkirk7) November 11, 2012
An athlete is an athlete and that's what you want to see out on the field. The kid can play and the fact that he is such a "freight train" of a RB only makes you feel better about him at the LB position and how college ready he may be come '13 (think Joe Bolden).
Prospects in Action
WR LaQuon Treadwell
once again proved to be a man amongst boy's in Crete-Monee's second round victory on Saturday. He showed his versatility on offense, putting up 67 yards receiving and a TD along with 39 yards rushing and a TD. Treadwell also earned player of the game by the
Chicago Tribune:
Senior Laquon Treadwell had two scores, beating double teams and opening the field up for his teammates.
"We just play all-out football for all 48 minutes," said Treadwell, who has 20 touchdowns. "We came out hitting them hard, and they made a few mistakes that we capitalized on."
Marcus Terrell hit Treadwell on an 8-yard post route despite Ottawa (11-1) double-teaming him.
"They were playing outside Cover-2," Treadwell said. "I was leaning to the outside, so I knew the defender was playing for the fade. I stopped on a dime and Marcus put the ball in the right spot."
Treadwell is elite. Double coverage, help over the top, you name it and it won't stop him. Josh Helmholdt seconds my analysis and even takes it a little further:
Not since Adolphus Washington last year have I seen a HS player who looks so out of place against HS competition. Treadwell is a beast
— Josh Helmholdt (@JoshHelmholdt) November 11, 2012
So yeah...Michigan needs this kid more than Treadwell's opponents need a couple extra defenders on defense to stop him. But this isn't
something us Michigan faithful likes to see ($).
Here's a new name to the list who hasn't been covered all that much throughout the year, but does have Michigan interest. Say hello to Davidson Day (NC)
'14 QB Will Grier
. What you are about to see next is not a typo. Grier broke the national high school record (!!!) over the weekend, throwing for 774 yards in Davidson Day's 104-80 victory over Harrell (NC). 104-80?! Really?! Could you imagine being at this game? It had to almost be daylight outside by the time it was over! But seriously, congrats to the kid and his team for advancing.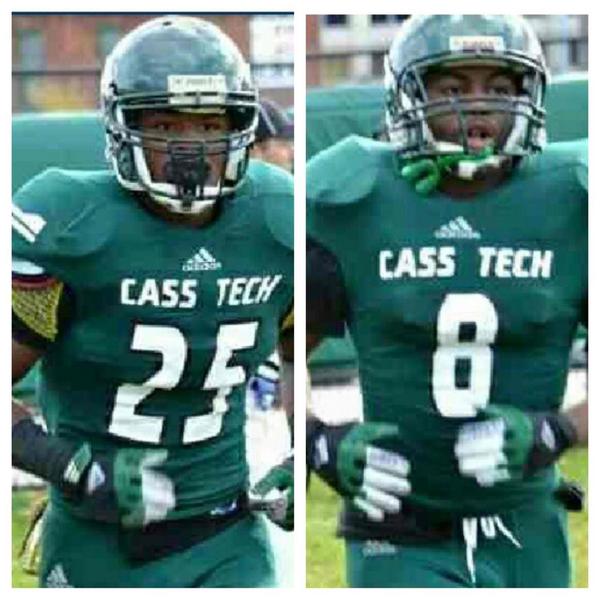 Captioned on twitter: The best rb tandem in the state (Gary Hosey #8). Image via here
Detroit Cass Tech was able to squeak out a victory to retain the District Championship. Lot's of Michigan prospects played huge rolls in the win. Mainly,
'15 RB Mikey Weber
(25 above)
,
who
had 157 yards and 3 TD's, one of them the game winner which you can see
here.
Another,
'14 DB Damon Webb,
who sealed the win with a 4th quarter INT.
Although
'15 RB Damien Harris's
team was knocked out of the playoffs, he did everything he could to help his team win rushing for 141 yards and 2 TD's along with a 72 yard TD reception. Crazy to think I have two more years of covering this kid.
A New Offer
A new offer was extended over the week and the beneficiary was none other than
'14 DT Nyquan Harris.
Harris is a monster (6'2" 270 as a Soph.) and attends Lake Taylor HS in VA. He has offers from some top D-1 schools ('Bama, Clemson, NC State, and USC) and Michigan is just the latest of many more big-time schools to offer. Want to know more?
Tremendous has ya covered
.
Northwestern Game Reactions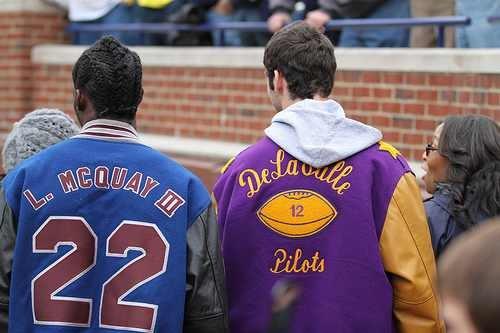 Leon McQuay (left) with Shane Morris Image via here
QB Shane Morris
S Leon McQuay III -
I don't even know where to start here. McQuay was obviously the center of attention over the weekend and he is very mum on how the visit went. Supposedly he hasn't even talked to his parents about the visit yet, so tough to get a reaction. I did read where he spent "a lot of time with a couple music guys (assuming JDK and Rey) and even was out until 2 a.m. one night with them." So seems
I was right
when I said JDK and Rey would be the most important recruiters of the weekend last week. But McQuay Sr. has said via twitter that the visit went "very well" and I've included the few tidbits regarding the Florida safety's visit:
Being told that Leon McQuay will be in Ann Arbor until 5 tonight and that he's been spending a lot of time with @jdkandrey on his trip.
— Steve Lorenz (@TremendousUM) November 11, 2012
Leon McQuay III's father tells me his son has "a lot to figure out" after his visit to #Michigan
— B Brown- The M Block (@CoachBrown3) November 12, 2012
*UPDATE*
Tremendous
spoke with McQuay III and I like what I heard.
*UPDATE*
Looks as though Michigan more than accomodates McQuay's interests and I've got to think that Michigan is back in it especially with the recent openings in the class (and possible de-commitment from
DB Gareon Conley)
. He has said to be announcing at the Army All-American game, so we will just have to see how this visit impacted him in the end.
'14 S Parrker Westphal
-
Along with the video below, Sam Webb gives his insight
here
.
Tremendous
has a reaction as well.
'14 WR Derek Kief
(picture below) -
Tremendous
'14 QB Adam Bertke -
Allen Trieu
'14 WR/TE Ian Bunting
-
Tremendous
'14 QB Andrew Ford
'14
-
Tremendous
- Take a look at what he has on his phone's lock screen (behind the interesting message from teammate and PSU commit TE Adam Breneman)
'14 DT Bryan Mone -
Tremendous
'14 ATH Dareian Watkins
-
Tremendous
'14 TE Kyle Rachwal
-
Tremendous
'14 DE Zach Evans -
Tremendous
'14 TE/DE Jacob Betschel -
Tremendous
'14 OL Josh Krok -
Tremendous
'14 OL Austin Labus
-
Tremendous
'14 DE/TE Garrett Dickerson
-
Tremendous
'14 RB Jamitreus Crockham
'14 WR Nate Hall
'14 DT Daniel Cage
'14 DT Logan Dziak
'15 S Cario Dawson
'15 John Kelly -
Tremendous
'15 WR Ray Buford -
Tremendous
Sayonara Suckas
'14 NY OL/DL Jay Hayes
has committed to Notre Dame. Hayes had a final two of ND and Michigan, but in the end thought ND was the right choice. Best of luck guy!