This Week's Dose: Back-to-Back Big Visit Weekends, Offers Never Stop, and OT.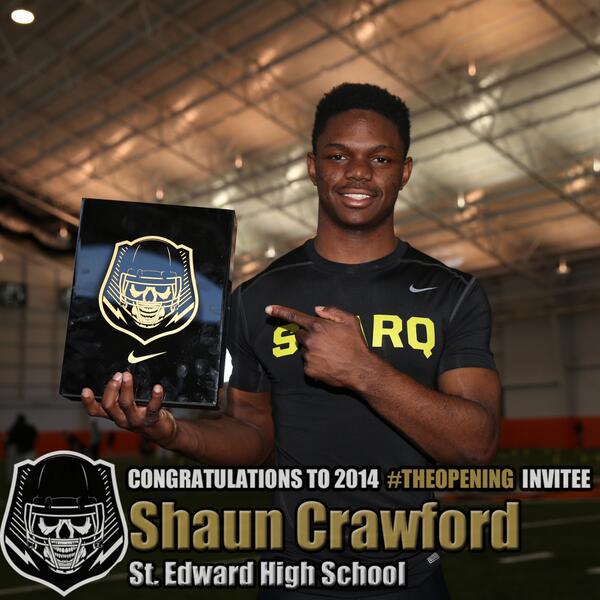 Crawford becomes just the third prospect invited. Image
Back-to-Back Big Visit Weekends
It was a busy (last) weekend up in Ann Arbor for the football program, as a lot of top under-underclassmen (2016 and 2017 kids) got to take in Michigan's campus before watching the basketball game vs. Wisconsin. Some new names, some kids already being recruited, and one in particular already commited --
OL Erik Swenson.
TheWolverine's Tim Sullivan
compiled this list
for all to see:
Bolingbrook (Ill.) linebacker Tuf Borland

With a name that seems to indicate he's destined for the linebacker position, Tuf Borland is one of the top 2016 linebackers in Illinois. He holds an offer from Illinois, and is in regular contact with several dozen other schools. This will be the 6-1, 215-pounder's first visit to Michigan.
Wyandotte (Mich.) Roosevelt wide receiver Donnie Corley

Corley is a 6-2, 170-pounder still looking for his first scholarship offer. He has good size, but more importantly the speed and ball skills to test a defense deep. He starts in the defensive secondary as well as on offense for his high school team.


Trotwood (Ohio) Madison quarterback Messiah DeWeaver

DeWeaver comes from an established Michigan pipeline - Trotwood has sent Roy Roundtree, Mike McCray, and others to Ann Arbor in recent years - and has visited Ann Arbor multiple times already. The 6-2, 184-pounder is a pro-style passer and solid distributor who impressed at Michigan's 2013 summer camp. - See more at: http://michigan.rivals.com/content.asp?SID=883&CID=1609937#sthash.3Pv2QBkt.dpuf


Cleveland (Ohio) St. Ignatius offensive lineman Liam Eichenberg

- likely

A 6-4, 265-pounder, Eichenberg already holds an offer from Ohio State - his only at this point in the process. He comes from one of Ohio's top high school programs (which produced the likes of U-M linebacker jake Ryan in recent years), and should have plenty of opportunity to show his stuff on the national stage going forward. He currently projects to guard, but could grow into a tackle in due time.


Saginaw (Mich.) Arthur Hill defensive end Lawrence Gordon

Gordon was in attendance at last night's HYPE Showcase, but did not participate in the 7-on-7. The 6-5, 240-pounder has visited Ann Arbor multiple times, including for last summer's 2016 Barbecue at the Big House.


Muskegon (Mich.) offensive lineman Juanye Johnson

A 6-4, 275-pound right tackle for his high school team, Johnson is still young enough that he could grow into the tackle position in college or stay about the same height and become a guard down the road. Either way, he's one of the state's top 2016 offensive linemen, and one with plenty of potential. This will be his first visit to Michigan.


Harper Woods (Mich.) Chandler Park Academy wide receiver Jalen Martin

Martin is a big-bodied 6-3, 190-pounder who excels on the football field and the hardwood for Chandler Park Academy. He's been a teammate of freshman Wolverines (Derrick Walton Jr. in basketball and wide receiver Csont'e York in both) in each. He already holds an Eastern Michigan offer, and should see many more down the road.


Cincinnati Hills Christian Academy defensive/offensive lineman Prince Michael-Sammons

A 6-6, 260-pounder, Sammons has the frame to play either defensive end or offensive tackle, depending on how he fills out. He's new to the game after moving to the United States from Nigeria, and he didn't play as a freshman while waiting for his eligibility situation from the international move to be sorted out.


Mount Pleasant (Mich.) wide receiver Kalebb Perry

Perry put together a strong sophomore season at Mount Pleasant High School despite being limited by injuries. He's a 6-2, 165-pounder with speed and leaping ability that allow him to serve as a deep threat whether it's through running by the defense or over them to make a catch.


Farmington (Mich.) linebacker David Reese

The 6-1, 235-pound Reese plays linebacker for his high school team, but could even play defensive end in college if he continues to grow. He visited Ann Arbor this fall for a football game, and has made the rounds at the in-state programs. His father played at Michigan State, so the Spartans were a sentimental favorite growing up.


Midland (Mich.) Dow tight end/wide receiver Mike Robb

Robb is a towering high school wide receiver at 6-6, 190, but it's likely he'll pack on weight and move to the tight end position as his body continues to develop. He has good speed - timed in the 4.7-second range in the 40-yard dash - and ball skills, and should become a legit BCS prospect in due time.


Naperville (Ill.) Central wide receiver/defensive back Emmanuel Rugamba

A 6-0, 170-pounder, Rugamba played both ways for his high school team this fall and hasn't determined which he feels is his best long-term fit. This will be his first unofficial visit to Ann Arbor.


Hartland (Mich.) tight end Nathan Skene

The son of former U-M offensive lineman Doug Skene, Nathan doesn't quite have the wide frame of his All-Big Ten dad. However, thanding 6-5 and 190 pounds as a sophomore, he should continue to fill out and develop the body of a Big Ten-caliber tight end. He has visited Ann Arbor several times, including for the 2016 BArbecue at the Big House in July.


Delaware (Ohio) Hayes outside linebacker Ethan Tucky

Already standing 6-3, 215 pounds, Tucky has a long, lean frame ideal for growing into the outside linebacker position at the next level. He holds an early offer from Eastern Michigan, and has taken unofficial visits to Ohio State, Notre Dame, and others.
Class of 2017 prospects
Detroit East English Village Prep offensive lineman Emani Mason

Mason is likely to be one of the state's top prospects in the 2017 class, and already stands 6-4, 265 pounds even though he's just a freshman. He started at left tackle for a program that sent Khalid Hill to Michigan in the 2013 class, and also produced the likes of Brandon Graham in past years (in a previous incarnation as Crockett High). Mason visited multiple times this fall.


Miamisburg (Ohio) offensive lineman Josh Myers

Myers already holds offers from Illinois and Indiana, and stands 6-5, 260 as a freshman in high school. This will be his first visit to Ann Arbor, and he also has trips planned to Tennessee and others this offseason. His older brother Zach plays on the offensive line at Kentucky.


Saginaw (Mich.) Arthur Hill defensive end/tight end Will Rogers

A 6-6, 235-pounder, Rogers was one member of a physically imposing defensive front for Arthur Hill, while also contributing a bit on the offensive side of the ball. He's still a young player, so his body should develop in time.


Orchard Lake (Mich.) St. Mary's linebacker Joshua Ross

Ross is the younger brother of U-M junior standout linebacker James Ross. The younger brother is already taller, at just over 6-1, but will have to dedicate himself in the weight room to get as massive as James was in high school. Either way, he has similar instincts and athleticism. Ross already holds offers from Michigan State and Oklahoma.


Akron (Ohio) Archbishop Hoban running back Todd Sibley

Sibley tore up the competition this fall even though he was just a freshman. Of course, he doesn't look much like a freshman already standing 5-11 and 188 pounds. He could end up being one of Ohio's top Class of 2017 prospects when all is said and done. - See more at: http://michigan.rivals.com/content.asp?SID=883&CID=1609937#sthash.3Pv2QBkt.dpuf
This weekend will be a little different, as it carries bigger implications as most visitors will be in next years class (2015); Which makes sense to me -- bigger game, bigger recruiting weekend.
MGoFish
did the honors of putting together this weekends visitor list:
2015


RB: 5* Damien Harris, 5'11'' 198lbs. Berea, KY (

Madison

Southern HS) - Offered
OLB: 5* Justin Hilliard, 6'2'' 210lbs.

Cincinnati

, OH (St. Xavier HS) - Offered
WR: 4* Brian Cole, 6'2'' 210lbs.

Saginaw

, MI (Heritage HS) - Offered
CB: 4* Shaun Crawford, 5'9'' 170lbs.

Lakewood

, OH (St. Edward HS) - COMMITTED
RB:

4* Mike Weber, 5'10'' 205lbs.

Detroit

, MI (

Cass Tech

HS) - Offered
QB/TE: 4* David Edwards, 6'6'' 195lbs.

Downers Grove

, IL (North HS)
LB: 4* Darrin Kirkland, 6'1'' 200lbs. Indianapolis, IN (

Lawrence

Central HS) - Offered
LB: 4* Asmar Bilal, 6'3'' 195lbs. Indianapolis, IN (Ben Davis HS)
DB: 4* Tyree Kinnel, 5'11'' 170lbs.

Huber Heights

, OH (Wayne HS) - COMMITTED
OLB: 4* Tyriq Thompson, 6'1''220lbs. Detroit, MI (King HS) - Offered
TE: 3* Harrison Moon, 6'5'' 260lbs.

Signal Mountain

, TN (Signal Mountain HS)
LB: 3* Troy Henderson, 6'1'' 210lbs. Lakewood, OH (St. Edward HS)
K: 2* Andrew David, 5'9'' 160lbs. Massilon, OH (Washington HS) - COMMITTED
2016
OT: Thiyo Lukusa, 6'5'' 300lbs.

Traverse City

, MI (Traverse City West) - Offered
LB: Daelin Hayes, 6'2'' 210lbs.

West Bloomfield

, MI (St. Mary's Prep)
RB: Kentrail Moran, 5'10'' 180lbs. O'Fallon, IL (O'Fallon HS)
WR: Desmond Fitzpatrick, 6'1'' 175lbs.

Farmington

, MI (Farmington)
2017
WR: Jeff Thomas, 5'10'' 170lbs. East St Louis, MO (East St Louis HS) - Offered
An interesting note to consider: Cass Tech
RB Mike Weber
is taking in campus for a second weekend in a row. I think Michigan is right back in the thick of things RE: his recruitment. '15 former commit
RB Damien Harris
headlines the list for this weekend following his dominant performance at "The Best of the Midwest" camp in Indy. Rival's Josh Helmholdt
breaks down the RB MVP's performance
:
Keep an eye on '16
OL Thiyo Lukusa
out of Traverse City West. He could end up being the second member of the 2016 class -- indications are good:
2016 OL Thiyo Lukusa in AA tomorrow for dinner, hockey game, then bball game on Sunday. Says, "There's a good chance I'll commit." @mgoblog
— Brandon Brown (@CoachBrown3) February 21, 2014
Cheers to Lukusa pulling the trigger, hoping Harris falls back in love with Hoke and Michigan, and to hoping Weber and Harris become best buds and form a powerful, speedy tandem for the future. Two commits in particular are hoping to aid in making my hopes come true, taking over the reigns from Speight and Ferns:
My bro @Tkinnel_2 and I are about to show @mikeweber25 why Michigan is the right choice this weekend!
— Shaun Crawford (@Crawf_4) February 19, 2014
Shawn Crawford
also earned an invitation to the coveted summer camp "The Opening." Crawford was arguably the best performer at the "Nike Football Sparq Combine:"
Congrats to Mr. Crawford on the invite.
Offers Never Stop
Seems as though, ever since Nussmeier took over as Offensive Coordinator, offers are flying out faster than you can say WOW!. These last couple week's saw no signs of slowing down the offer train. Kids from across the country are hearing from the coaching staff, receiving the best news possible -- a full ride to Michigan.
'15
DE Josh Sweat -
Jr. Highlights
'15
DB Marcus Lewis -
Jr. Highlights
'15
DB Stephen Griffin
-
Jr. Highlights
'15
S Prentice McKinney, Jr. -
Jr. Highlights
- Reaction via
MGoBlog's Brandon Brown
: "I really like it. Michigan is high on academics and that's what I'm about. Great football, too."
Jr. Highlights
'15
DE Clelin Ferrell -
Jr. Highlights
'15
DB Garrett Taylor
'15
WR Tyron Johnson
'16
OL Willie Allen
'16
OL Liam Eichenberg
'16
DE Joseph Jackson -
Soph. Highlights
'17
OL Josh Myers -
first offer of the 2017 class.
'17
WR Jeff Thomas -
Fr. Highlights
- 247Sports Clint Brewster sheds some light on the young, raw kid:
Really like the game of newly offered 2017 WR Jeff Thomas. Over 50 catches as a frosh. Great moves and explosive as a return man
— Clint Brewster (@clintbrew247) February 18, 2014
OT
Hoke and co. received another
walk-on commit
LB Alex Kaminski.
Michigan makes the cut for two offeree's in the '15 class.
LB Justin Hilliard
has Michigan in
his top 15
;
WR Juvall Mollette
has Michigan in
his top 10
.