This Week's Dose: The Mayor De-commits, Commits Take in AA, Prospects in Action, and OT
The Mayor De-commits
WR George Campbell
decided to reopen his recruitment and de-commit from Michigan:
No. 2 ranked WR George Campbell has decommitted from Michigan. He decommitted Friday, didn't want it out for awhile but that happens.
— Tom VanHaaren (@TomVH) December 18, 2013
This news isn't super surprising, especially if you noticed his twitter bio no longer said "committed to Michigan" last week. The best news of the situation is how
TomVH
and
Steve Lorenz
(who drops a new WR name to look out for) both reiterated that Michigan is still in it with Campbell and that he's just re-opening his recruitment.
Moving forward, you better believe Hoke and co. will still put a full court press in getting Campbell back on board. Michigan still has an advantage over everyone else; Campbell obviously saw something in Michigan and that's why he committed. Let's not forget that. Or the fact that current commit
Mason Cole
is a teammate of Campbell's.
I've heard three teams who will more than likely enter into the picture: Florida St., Florida, and Clemson. To me, Clemson and Florida St. will be the biggest competitors. Florida St. is a no-brainer. They arguably have the best receiving core in the country, a Heisman winner, and about to play for the National Championship. Clemson will make a push due to the success of their WR's is recent past (Hopkins and Watkins) and fellow teammate and past Michigan recruit
WR Artavis Scott
is committed there as well.
Buckle up for the ride, ladies and gents. Cheers to reeling back in on of the top players in the country this go-around.
Commits Take in AA
Starting on Friday, most '14 commits made their official visits to Ann Arbor to take in campus one more time before actually enrolling in January/August. It was a crucial visit for one in-particular,
Jabrill Peppers
, who has been considering other officials, as you recruitaholics know. Hoke and co. were given their last opportunity to solidify Peppers' commitment
,
and they did just that:
Vibes seem good for #Michigan with Jabrill Peppers after visit. Other visits appear very doubtful according to a good source. #Wolverines
— Mike Farrell (@rivalsmike) December 15, 2013
From @JabrillPeppers - "I'm 100% going blue."
— Sam Webb (@SamWebb77) December 17, 2013
Panic button DESTROYED!!
Here's some pictures from everyone in attendance, including uncommitted '14
TX RB Vic Enwere:
Moe Ways
and
Jabrill Peppers
(alongside a picture of two guys doing the same thing; those two ended up to be pretty, pretty, pretty, pretty good)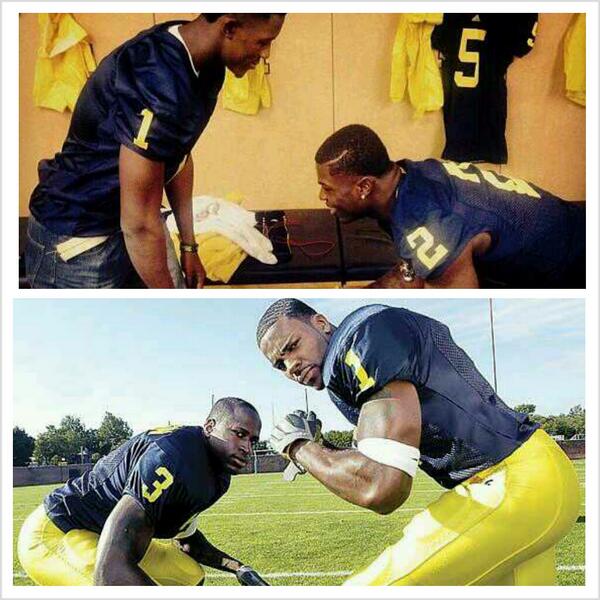 Peppers
at the basketball game vs. Arizona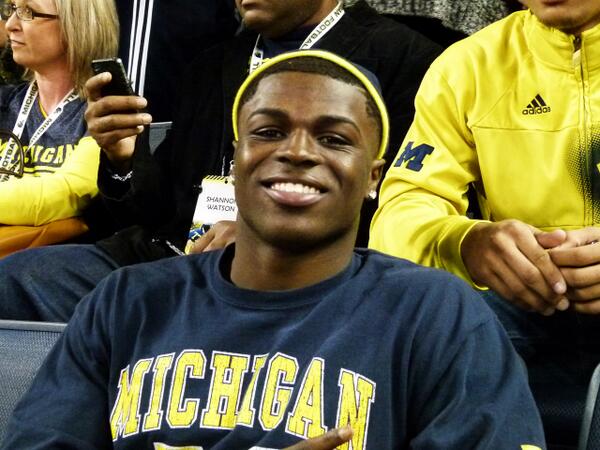 Juwann Bushell-Beatty
Freddy Canteen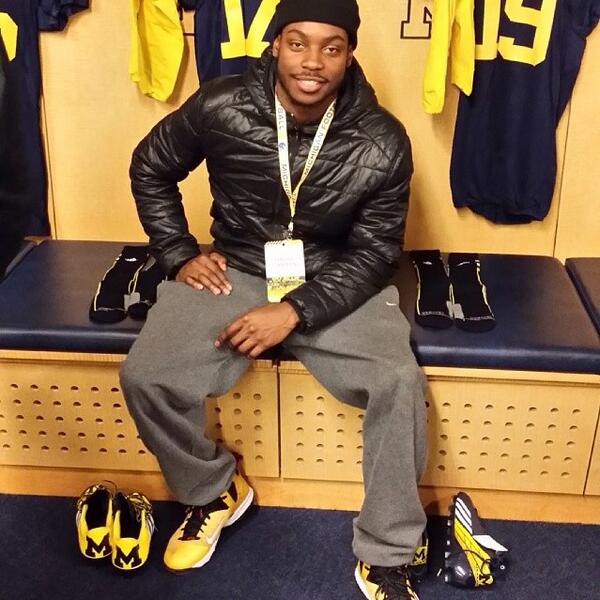 Canteen
and
Enwere:
Ian Bunting
with the headman himself
: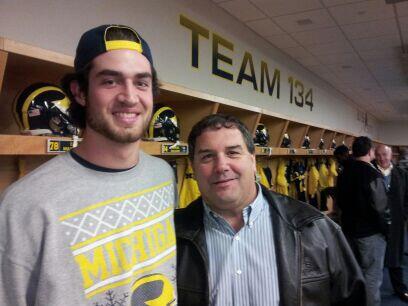 Here's the whole crew taking in the heart-breaking loss to Arizona (left to right - Top row: Speight, Canteen, Wangler, and Cole. Bottom row: Enwere, Ways, Peppers, Marshall, and Harris, who must be checking out the female prospects)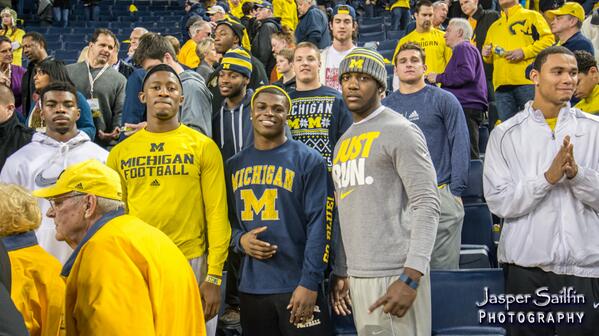 Prospects in Action
'15
NJ WR Irvin Charles
-has an offer. Junior season highlights
via HUDL
.
'16
OH DE Prince Sammons
- kid has an offer and is blowing up in the recruiting world. 6'8", big frame. Sophomore season highlights
via HUDL
.
OT
I want to take the time here to say a few things regarding these commits and the fans. 1)Not everything said on twitter has to do with the kid and where he is going to school. These kids have lives and not everything is related to football (RE: Damien Harris). 2) I'll let Mr. Speight do the talkin':
Please, michigan fans, whatever you do, respect George and his decision. Prove that you're classier than other fans & do not bash him!
— Wilton Speight (@WiltonSpeight) December 18, 2013
Now, I'm not talking to all you. Most the Michigan fan base is filled with classy, die hard Michigan men/women. But there are a few who aren't; Don't be the ones who ruin it for the rest of us!