This Week's Dose: Commits in Action, Prospects in Action, Commitment's Official Visit Time, Fire Up The Jet, Dave, New Offers Out, It's Looking Good in '15, and a sad version of Sayonara Suckas.
Commits in Action
As always, check out our 2014 and 2015 recruiting boards to see latest rankings and profiles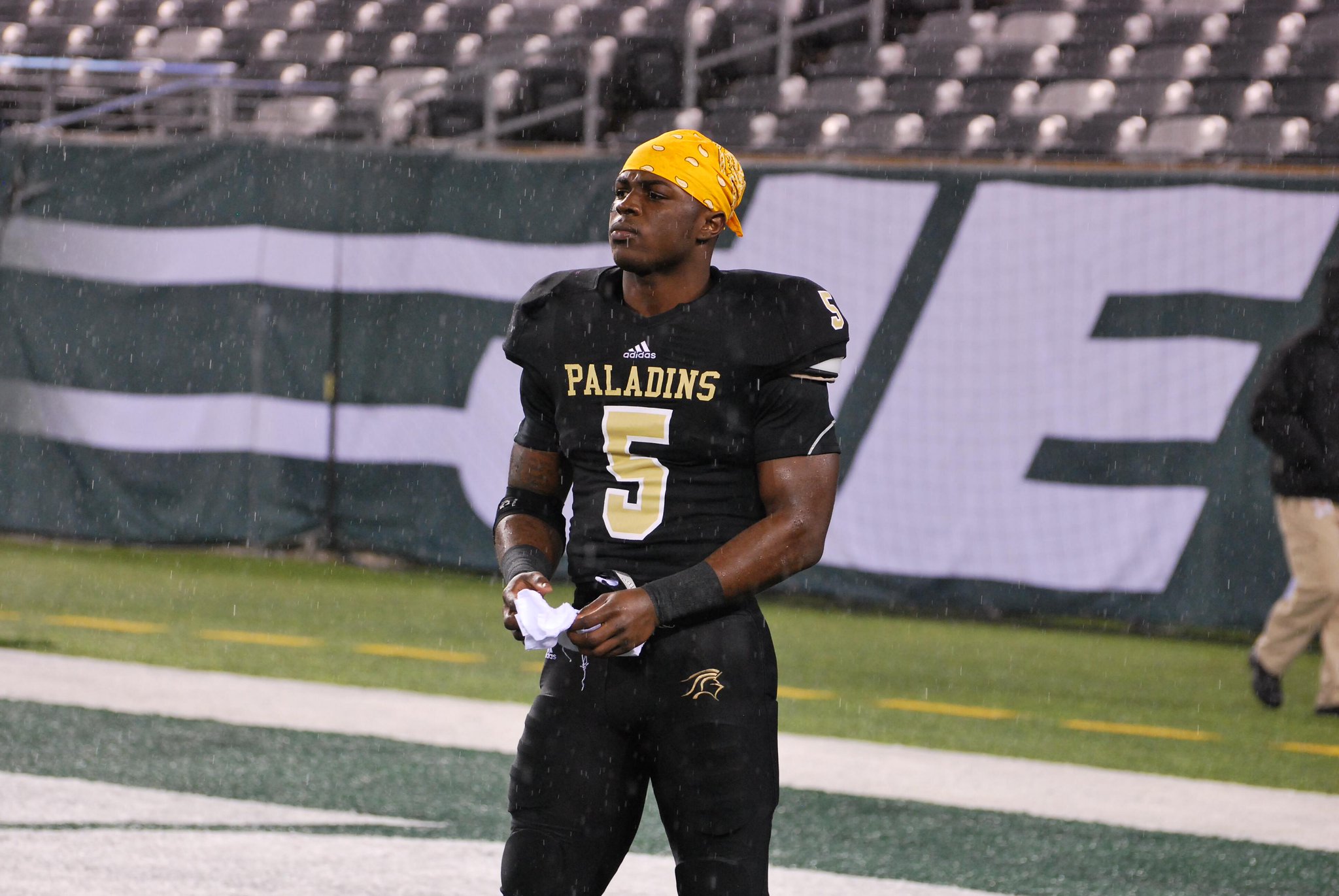 Rockin' the maize bandanna. I see ya kid.
Paramus Catholic HS (NJ), home of
Juwann Bushell-Beatty
and
Jabrill Peppers,
came away with their second state championship in a row taking down St Peter's Prep (NJ) 13-7. What's most amazing is how The Commish pulled off a feat that (more than likely) has never been done before in the history of high school sports. I'll let
Brian Fitzsimmons of MSG Varsity
fill you in:
Blessed with special talent that comes around only once every decade or so, Peppers leaves behind a high school career that changed the landscape in North Jersey. He won four state titles – two with Don Bosco Prep and two with Paramus Catholic – and served as the face of Garden State football, which has generated more national recognition than ever before.
"Numbers don't lie," Peppers said. "Two championships with two different teams and one national championship. I'm leaving my legacy in New Jersey with a championship with the guys that I love. I'm just going to continue doing great things at the next level."
"He's incredible," coach Chris Partridge said. "Are you kidding me? He's one of the best athletes of all-time in New Jersey. He's an incredible player, and he's a better kid. He's a great person, and that's what makes him so special."
Does this put to rest that he is the top player in the country?? No matter where he played, he won. 'Nuff said.
Haven't heard much from
Noah Furbush
this year. Don't worry, he took all his anger out on the field.
His stat-line
will drop your jaw: 102 tackles, 26 for loss (!!!!), 3 sacks, 1 FF, 3 FR., Division Defensive POY. See! The 26 TFL is an insane amount. I guess this explains why the coaching staff sees this kid with his hand on the ground.
I gave you the final stats for
Wilton Speight
in the last post. Well now I have the proof. Enjoy Speight's
senior season highlights
. Can we start calling him "Big Wilt" since he relics Ben "Big Ben" Roethlisberger so well??
I also spoke of
Moe Ways
devastating loss in the playoffs in the last edition of Recruitaholics. He's come a long way this season. His size is going to create some problems in the future:
Shawn Crawford
had a huge
junior season
, showing off his physicality and elite speed. He may be one of the more underrated kids in this entire class. Main reason: size. Remember, Crawford is only 5'9", where if he's 6'1", things would be much different. His skill set is very, very similar to Peppers, who as we know is at the top of his class. I love Crawford's aggressiveness and tackling ability, reminding me of a young Bob Sanders.
Damien Harris
added
The Gatorade Player of the Year in KY
to his trophy case. Not surprising after his dominate season of 2621 yards and 45 TD's.
Cue the Tecmo Bowl music
.
Prospects in Action
Michigan's top remaining target
DE Malik McDowell
has released his
senior season highlight tape
. After saying and watching that, we want to thank you Mr. McDowell for providing us with four and half minutes of enjoyment. Mcdowell also recently named
his top seven
. Michigan made the cut (duh) along side MSU, OSU, Florida, FSU, 'Bama, and LSU.
'14
MI S Jason Alessi
has a preferred walk-on offer. His senior highlights:
'15 legacy recruit
MI LB Tyriq Thompson
- junior season highlights
'15
QB Alex Malzone -
junior highlights
'15
OH LB Darrin Kirkland, Jr. -
junior season highlights
Commitment's Official Visit Time
This weekend marks the weekend that most '14 commits will make their official visits to Ann Arbor, an idea that has begun to take recruiting by storm, and a good one at that. Expect to see 80-90% of the '14 class, including
Jabrill Peppers,
on campus come Fri. evening/Sat. afternoon.
An unexpected visitor committed elsewhere will also take in what Michigan has to offer this weekend. '14
RB Vic Enwere
is committed to Cal, but was offered a few weeks back following the loss of Hand (NOT AGAIN). I think the possibility of flipping this guy is higher than people think. This weekend could turn out to be a major reason why.
Fire Up the Jets, Dave
The season concluded last weekend with a heart-wrenching loss on the field, and a recruiting win off the field. The reactions were nothing but positive from recruits across the country and the staff knew it was time to get on the go. Starting last Monday, Michigan jets were flying all over the country to check in on the top remaining targets. Here's who received those visits:
Commits
Jabrill Peppers
Brandon Watson
and
Freddy Canteen
Watson on left of Hoke. Canteen on right.
Wilton Speight
Mason Cole
Had a great in home visit tonight! Can't wait to be a wolverine 〽️, but we got a state title to win before!
— Mason Cole (@MasonCole52) December 5, 2013
Brian Mone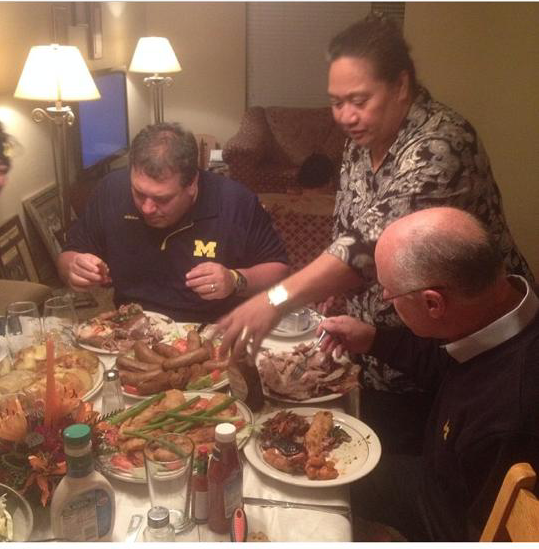 Holy sausages!! That's a lot of food. No wonder Mone is so big.
Drake Harris
Great in home visit with Coach hecklinski tonight! Just keeps getting me more and more excited to come play for him! 〽
— Drake Harris (@drizzygetbusy01) December 4, 2013
Michael Ferns
Just had a great home visit with Coach Smith. #GoBlue
— Michael Ferns (@M_Ferns10) December 4, 2013
Moe Ways
In home visit was Great.. Mann I can't wait to be a Wolverine! Future looking real Bright 😎
— Moe Ways (@MoeWays) December 4, 2013
Lawrence Marshall
Prospects
'14
DB Marshon Lattimore
'14
S Erick Smith
'15
DE Jashon Cornell
'15
LB Jerome Baker
'15
OL Sterling Jenkins
'15
LB Osa Masina
'15
LB Justin Hilliard
'15
DB Minkah Fitzpatrick
'15
DE Clelin Ferrell
'15
QB Jimmy Fitzgerald
'15
TE CJ Conrad
'15
ATH Anthony Rush
'15
OL John Keenoy
New Offer's Out
'15
DT Tim Settle
is a behemoth of a man at 6'2" 308, and
he can disrupt a backfield
with the best of 'em. It's apparent Hoke and Mattison agree after
extending an offer
while visiting the state of VA last week. Settle is good friends with Da'Shawn Hand, let's hope this one ends just a little differently.
The biggest surprise last week came when current commits
Freddy Canteen
and
Brandon Watson's
teammate '15
QB David Sills
was
extended a scholarship
. Sills is a 3-star prospect who has been committed to USC since 7th grade. Yes, that's when Lane Kiffin was still there. Yes, he's stuck with his commitment so far, but one has to wonder with all the coach swapping going on if it will stick. I think his highlight tape has something to say about a 3-star ranking:
He fits the prototypical QB size (6'3" 180) and style Hoke and co are looking for. He also trains with Steve Clarkson, who is great friends with Borges and currently trains
Wilton Speight.
Not sure how much interest Sills has in Michigan, but they will definitely get a look.
The fifth offer of the '16 class belongs to
MI WR Desmond Fitzpatrick.
Fitzpatrick has been up to visit multiple times already and an offer was inevitable. He isn't the tall, possession type that Hoke usually recruits. He fits more of the slot type and resembles current commit Freddy Canteen.
It's Lookin' Good in '15
The new
2015 Rivals100
was released a few days ago and it's hard to imagine another team with as hot a start as our Michigan Wolverines. Hoke and co are doin' work and doin' work early. Here's where everyone stands (overall ranking):
Commits
#5 Damien Harris
#7 George Campbell
#96 Shawn Crawford -
that looks good doesn't it?!
Targets
#2 QB Josh Rosen
(offer)
#10 DB Minkah Fitzpatrick
#16 DB Iman Marshall
(offer)
#20 LB Malik Jefferson
(offer)
#25 LB Jerome Baker
(offer)
#28 OL Sterling Jenkins
(offer)
#34 RB Soso Jamabo
(offer)
#39 RB Jacques Patrick
(offer)
#45 LB Justin Hilliard
(offer)
#49 LB Osa Masina
(offer)
#52 DT Tim Settle
(offer)
#74 DE Jashon Cornell
(offer)
#80 DE Keisean Lucier-South
#89 DE Darian Roseborough
(offer)
#90 ATH Brian Cole
(offer)
#91 LB Ricky DeBerry
(offer)
Notes
-Not to shabby of a list. Hell, who am I kidding, that's two of the top seven prospects already on board! And with plenty of time to sell the product that Hoke and co are putting together, a very talented -- but small -- top five class is a distinct possibility.
-That's a lot of top prospects who already possess offer's/interest with the exception of
Fitzpatrick
and
Lucier-South.
Fitzpatrick's lack of an offer is a mystery. Kid has a stellar list of scholarships from all over the country to choose from, yet Michigan is not one.
-We all know the story about Lucier-South: He'd have an offer if it weren't for the importance
Jashon Cornell
puts on being the sole offer at the position. There's been talk of a new DE offer given out t in the '14 class...and Lucier-South is NOT the recipient.
-Speaking of Cornell, it's crazy how each site fluctuates so much when ranking the big Minnesotan. He's ranked 19th (247), 1st (ESPN), and 39th (Scout). He has plenty of talent, but the question at hand is what's his immediate impact potential?
Sayonara Suckas
'15
DE Hjolte Froholdt
has committed to Arkansas. Froholdt decided between Arkansas, Michigan, and Florida State. Michigan takes a hit missing out on this one. He was considered Michigan's to lose.