This Week's Dose: Da'Shawn Hand Update, Commits in Action, and Prospects in Action.
Da'Shawn Hand Update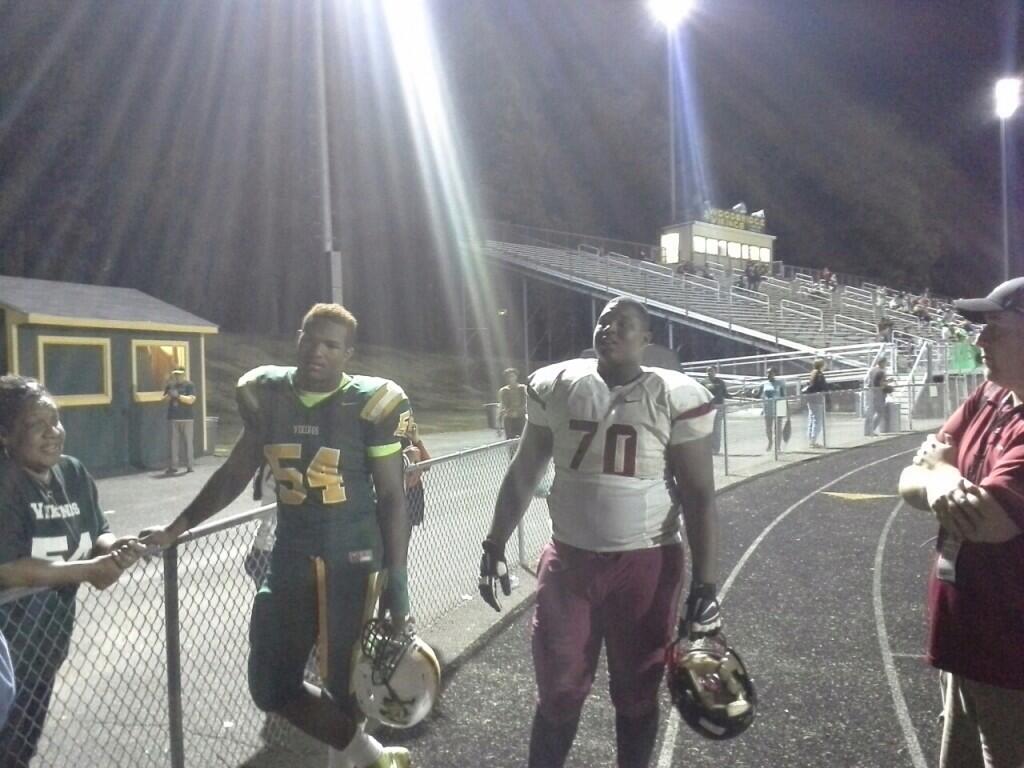 '15 DT Tim Settle on the right Image
Some major news hit the shelf early last week as
Da'Shawn Hand
had to reschedule his Florida visit in order to take his SAT on Oct. 5th. Looking forward, there are only a few weekends possible for Hand to hit the road and take in a game at The Swamp before his decision date of Nov. 14. So what does this mean? Any bump in the road from here on out is a positive for Michigan's chances as they are the perceived favorite according to
247's Crystal Ball
. Mike Farrell shares his thoughts on the situation and his opinion carries some weight. This one won't let us down:
After talking to Da'Shawn Hand last night I still feel #michigan team to beat but #gators are a big threat as I assumed. #bama long shot
— Mike Farrell (@rivalsmike) September 21, 2013
Some more compelling news regarding the situation: Hand tells a student that he has an idea of where he wants to go in the third edition of The Washinton Post's profile series on Hand, which also showcases Hand's visit to Ann Arbor:
Ok, how the heck does this girl get this info out of him so easily?? Please don't steal any of our jobs young lady! I'm not sure how Michigan isn't the school he's referring to here. He's seen AA multiple times, loves the staff and has only seen Florida once. Things are looking better and better as times goes by.
Check out the 4th episode, titled
Full Speed, All the Time
, which begins with Hand's SC top 10 body slam. Ouch. And don't worry Recruitaholics, the '14 commits haven't stopped recruiting Mr. Hand to Michigan. The latest effort:
a homemade video
from Jabrill Peppers. Hand approves:
@JabrillPeppers you the man brah
— Da'shawn Hand (@TheHand54) September 18, 2013
Keep up the good work boys. Mr. Hand will be ours in no time (hopefully).
Commits in Action
Check out our 2014 and 2015 recruiting boards to see latest rankings and profiles
'14 commit
Michael Ferns
and his St. Clairsville HS team improved their record to 4-0 on the season last Friday. Ferns has been impressive for his team so far this year, even more than we would've thought:
Michael Ferns' dad says the

#Michigan

LB commit is playing "on another planet like a damn psycho case" right now. So there's that.
And there's your title people!
Wilton Speight
continues to prove why this coaching staff is so high on him.
This week's performance
: 4 TD's including one rushing. Heck he's been so good, his trainer, Steve Clarkson, put together a little highlight comparing Speight to a multi-super bowl champion:
That's some high praise from a guy who knows the quarterback position better than most. The two are eerily similar though after watching the video and comparing recruiting profiles.
The Commish
is back at it again; providing us with more video game material. First,
a pick six
, including one of Peppers' signature spin moves, and second, a shooting-out-of-a-rocket-decleating-a-man
monster hit
. O yeah...his team also
won a big game 35-21
over Depaul Catholic -- interesting side note: check out the Depaul Catholic's helmets and tell me you don't see a future smile on your face, oh you know, sometime around November, in East Lansing? -- Anywho, your welcome for improving your day.
Teammate commits
Mason Cole
and
George Campbell
led East Lake HS (FL) to a huge victory, 61-16. Couldn't find any stats (no surprise re: Cole), but I did find
a great article
focusing on these two studs along with '15 greyshirt commit
Brady Pallante
courtesy of Tim Sullivan (Detroit Free Press).
'15 commit
DB Shawn Crawford
was all over the place Friday night in his team's big win. ESPN's Brad Bournival was on hand, reporting 9 carries, 124 yards, 2 TD's on the ground; 3 receptions, 28 yards in the air; one punt return, one touchdown. That tallies up to 240 all-purpose yards for a lockdown physical cornerback (!!). Let's add some icing to the cake and check out his
highlights
from the first four weeks.
Wayne Hills HS (OH), home of '15 commit
S Tyree Kinnel,
picked up another victory over the weekend moving to 2-0.
Good news on the
Drake Harris
front. He is "more than likely" ready to get back on the field this weekend after suffering a hamstring injury a month or so back according to his twitter.
*UPDATE*
Thanks to The Wolverine
, he's some additional stats for the commits of the '14 and '15 classes.
I was out of the office last week, but 247's Steve Lorenz put together
a stat list
for week 3's commits.
Prospects in Action
'14
DE Da'Shawn Hand
continued to prove his #1 overall ranking last weekend
accounting for 10 tackles
(3 for a loss including a sack), and one blocked punt returned for a TD.
'15 Cass Tech
RB Mike Weber
ran his way to another big game, rushing for over 200 yards and 3 TD's in Cass Tech's victory.
'15
DT Tim Settle
faced off against Hand's Woodbridge HS (VA), recording 5 tackles (3 for a loss).
There's no doubt that '15
OL Sterling Jenkins'
is the top priority for this staff. Rival's Mark Gilver took in Jenkins' game on Sat. and he impressively answered Gilver's
only question
. My goodness he's
HUGE
!!