It's that time of year again, folks. The leave's are starting to change, tailgating is your new Saturday afternoon, and the coldies are aplenty. And I hope you watch my home state of Kentucky's own, Turtle Man, or your gunna be completely lost on the title. My apologies?
Commits in Actions
IT'S FINALLY HERE!!! The future winged-helmet superstars are back in action this week, with most getting their first taste of the gridiron. And they were fillin' up the stat sheet; as were plenty of prospects high on Michigan. Here's the list, thanks to my guy over at
Wolverine 247, Steve Lorenz
(added pictures and notes in italic mine):
2014
QB Wilton Speight:
15-19; 342, four passing TD, one rushing TD; 42-0 victory
WR Moe Ways:
6 catches, 175 yds, TD
WR Fredd Canteen:
N/A in win over Banneker (GA), 55-12
WR Drake Harris:
Injured -
Has hamstring injury. Suffered a few weeks back. Should be out 3-4 more weeks.
TE Ian Bunting:
Loss to Bolingbrook, 17-6.
CB Brandon Watson:
3 yd fumble return for TD
LB Chase Winovich:
8 tackles, one sack, one forced fumble; 80 yard TD run; 40 yard TD pass -
yes he play's QB and at 6'4 215, he's probably a stud
DE Lawrence Marshall:
8 tackles, 1.5 sacks (approximate) -
lost to Cass Tech (MI)
LB Jared Wangler:
13 tackles, three receptions
LB Michael Ferns:
Stats not released
DT Bryan Mone:
Stats not released
DT Brady Pallante:
13 tackles -
very solid as a defensive tackle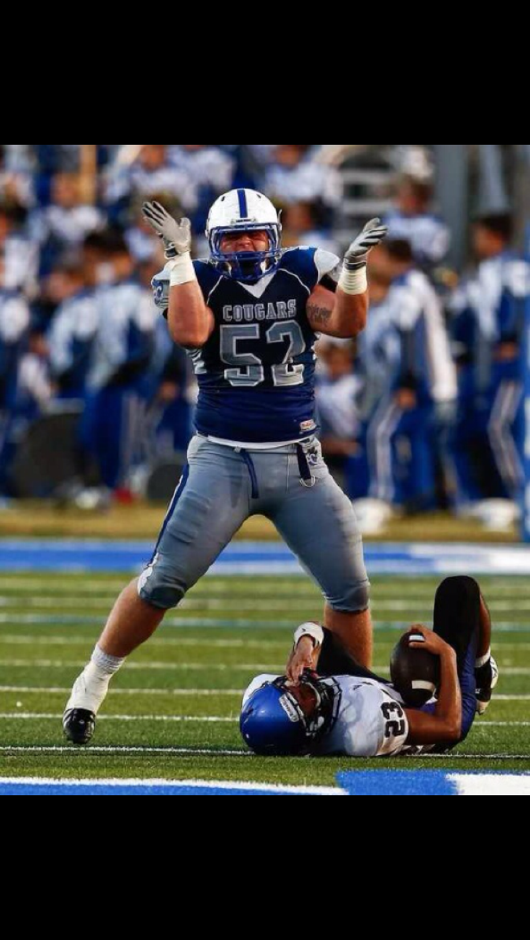 Pallante standing over a wounded ball carrier. Image
LB Noah Furbush:
Stats not released
OL Mason Cole:
No OL stats
Cole celebrating with Campbell after explosive 80-yard TD. Image
DID NOT PLAY:
Jabrill Peppers, Juwann Bushell-Beatty -
WHAT?! No more freakish-like plays to tease us?? I'm not even excited about Peppers anymore anyway...
2015
Damien Harris:
13 carries, 350 yards, five TDs; played one half (
FILM HERE
) -
watch this. Just unfair
George Campbell:
1 catch, 70 yards; six tackles, one sack; played one half -
has struggled a bit this year with his hands. Had a few drops in first game. Was dominate on defense though
Tyree Kinnel:
Three tackles, one 30 yard KO return; played one half
Shaun Crawford:
7 tackles; 2 carries, 23 yards; 1 PAT block, 1 Punt block -
kid can do it all, no surprise
OL Jon Runyan Jr.:
No OL stats
K Andrew David:
No stats released -
David actually won the QB job for Massillon High. A very athletic kid as a kicker.
Prospects in Action
2014
Da'Shawn Hand:
12 tackles, three sacks -
only on pace for 144 tackles and 36 sacks. ...That was the sound of records breaking; The godfather believes Michigan is still the team to beat
Malik McDowell (estimated):
10 tackles, six for a loss, two sacks -
just as dominate; against a talented Cass Tech (MI) team at that
2015
LB Justin Hilliard:
Four tackles, sack, FF, FR
DE Jashon Cornell:
Four sacks, four tackles in one half -
that's a lot of sacks for one half
*Highlights*
LB Malik Jefferson:
Eight tackles in one half
RB Mike Weber:
130 total yards, two touchdowns -
was arguably best player on the field in the Cass Tech (MI) Southfield (MI) classic showdown.
DE Joshua Alabi:
Four tackles, 1/2 sack
ATH Brian Cole: 10 carries 199 yards and 2 TD's. 1 INT on defense *Highlights*
2016
RB Martell Pettaway:
24 carries, 257 yards, 3 TDs
WR Desmond Fitzpatrick:
4 catches, 90 yards, all in the first half
RB Antonio Williams:
15 carries, 125 yards, one touchdown
RB Robert Washington:
22 carries, 154, four TDs (played defending state champions)
WR Connor O'Donnell:
5 receptions, 124 yards
TE/DE Isaac Nauta:
Four catches, 80 yards; 8 tackles
QB Messiah DeWeaver:
Two TD passes; didn't have exact passing stats
RB Kentrail Moran:
94 yards, one TD
There is a lot to get excited about here recruitaholics. Most notable: '14's Speight, Ways and Winovich. '15's Harris and Crawford. Harris has definitely been most impressive early on.
5-star Features
There's three 5-star's drawing some major media attention during the first week or so of the 2013 HS season: Commit
Jabrill Peppers,
and prospects
Da'Shawn Hand
and '15
Jashon Cornell.
Peppers has pretty much stolen the show so far after his electrifying highlight reels, but will he be a factor in Borges' offensive gameplan once he arrives to AA? 247 National Recruiting Guru JC Shurburtt
sure thinks so
, stating that Peppers may be a better fit for offense and thinks Michigan should use him there instead of defense. I disagree, respectfully. I think there will be a bigger gap talent-wise at the DB/S spot oppose to the RB position. Tons of incoming talent at RB in the next couple classes to add to Green and Smith from '13's class.
Hand, on the other hand (that was fun!), is taking part in a series featured in The Washington Post called "The First 17." Journalists have been granted unlimited access into Hand's life on and off the field, documenting how tough it is to be a national recruit in today's age. A
preview
was released last week. The show debuted last Friday with
Episode 1
:
This will be one to check out every week. Hand is a great personality; one that will shine in a series like this.
Lastly,
ESPN's Chris Sherman
catches up with Minnesota's phenom Cornell; who is listed as the #1 recruit in the '15 class and has major interest in the Maize & Blue. Sherman discusses Cornell's drive to be the best, and talks to his coaches who discuss the type of kid Cornell is:
As the spotlight grows more intense, those close to Cornell say it's changed him none. The circumstances only strengthened his focus and forced him to recognize the challenges of this unique position; he's in a rare place, among the youngest prospects bestowed this label as the best in his class.

Yet Cornell's attitude belies his youth.
"Now," he said, "I have no choice but to work harder than the person across from me....

You're guaranteed nothing," Cornell said. "I believe you have to earn everything in life. I've learned it's not all about being No. 1. You can come from anywhere, any position and go to any school. You've still got to work to get places."
ESPN's scouting report on Cornell awards him high marks for speed, explosiveness and physicality. While the report offers no direct comparisons, it says he shares traits with other recent top-rated players at his position.

You know the names: Robert Nkemdiche, Mario Edwards, Jadeveon Clowney, Da'Quan Bowers.
Cornell must live with the burden.
"He's in a spotlight that most of us can't imagine," Cretin-Derham Hall coach Mike Scanlan said. "I've always said it's like being Elvis. Everyone knows who you are. Everyone's looking at you. And they're all waiting to say you're not as good as people think." Scanlan said he's never seen interest in a prospect escalate so quickly. He described it as an avalanche.
How 'bout those name drops?! I recommend reading the entire article. There's a struggle Cornell has to live through in order to be the best player in the country, sometimes commuting 45-60 minutes each way to practice. Proof that his passion and drive will lead to success on and off the field.
*#Staytuned later this week for your visitor list for the ND game this weekend and some clarity to the safety position in the '14 class.*