This Week's Dose: #1 Prospect, #1 Class...(insert title), 5-star Updates, Double Shot: NFTC and Opening Invites, Quality OT, and the always saddening Sayonara Suckas
#1 Prospect, #1 Class...(insert title)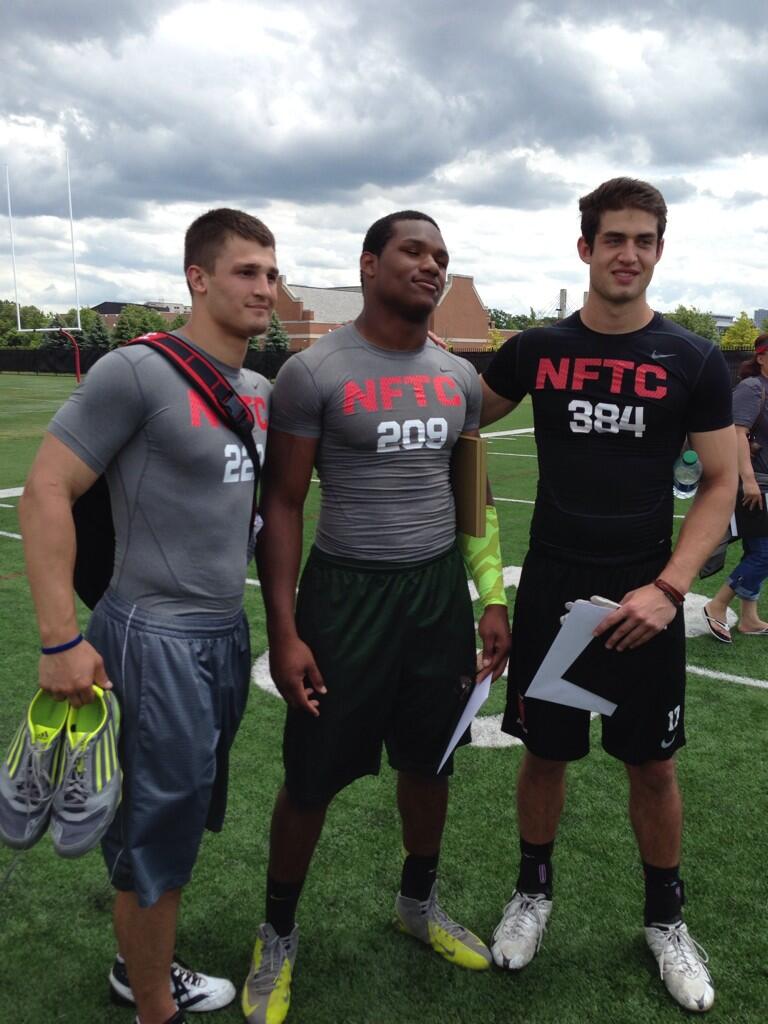 Ferns and Bunting putting on their recruiting shoes, workin' on Hand. Image
It's no surprise that
DE DaShawn Hand
is interested in Michigan. But just how much? Is Virginia Tech the leader? When will Hand take visits? What's the timeline for his decision? Lot's of questions surrounding Hand's recruitment and some insight into those questions has been answered recently.
Over this past weekend, Hand was a top performer at the NFTC (
*highlights*
)event in Columbus, OH. He also took the oppurtunity to make another unofficial visit while on campus. Bad news for the Wolverines? Doesn't seem like it. Hand spoke to
SBNation's Bud Elliot
about the visit along side friend '15
DT Tim Settle
, you'll like this:
"It was straight, we talked," Hand said. "But I was with Tim, and he's a beast, and it was kind of his visit. Everyone knows that my first visit wasn't all that, but this visit was better. Still, I don't want to get anyone's hopes up."
Hand also mentions a few interesting tidbits about the (supposed) top 2 teams in his recruitment up to this point...you'll like this too:
"Bud Foster is my favorite coach, but I haven't talked with him in a while," Hand said. "But my favorite coaching staff is Michigan. With Michigan, what you see if what you get. It's professional. With some, you feel like when you get to college it might change, but with Michigan, everyone says they're straight."
This is where I tell you not to get your hopes up and that anything can happen...Scratch that. Hand is definitely intrigued by the coaching staff and his visit to campus a while back went extremely well.
I believe this kid is the top player in the country, not only because of his on the field attributes, but also because of the character he possesses. Hand is an enjoyment to follow and is a well spoken, outgoing, loves-to-have-fun kind of person. Situation's like this,
from CBS's Bruce Feldman
, display how important those traits can be in this grueling process:
Q: What is the craziest thing that has happened to you since you've been named the nation's No. 1 recruit?
Hand: Well, I ain't gonna say any names, but one coach told me that since I'm the No. 1 player, I'm gonna get to meet Michael Jackson. I said, "Isn't he already dead?" The coach goes, "Well, all right, you can meet Tito." I was like, all right. OK, I'm done.
It was crazy, but it is what it is.
Huh? Coach may I recommend TMZ.com (my better half would be so proud of me) or just being awake? And going in a different direction...
BREAKING NEWS
: Hand gives us insight on a big factor in his decision...Food?? (end of video)
Ok, enough goofy stuff. Lastly, Allen Trieu of Scout.com let's us in on
a little convo
between Mr. Hand and himself regarding a decision timeline and an (updated?) top 5:
"Once I take visits, that's when I'll narrow it down. I should be done (committed) before December.

...I'm doing it conventional style, at my school, one hat, call the coaches and that's going to be it."
On his top five of Alabama, Florida, Michigan, South Carolina and Virginia Tech, Hand said, "It's still the same. I'm leaving it as is and not making any changes right now."
The chances are very good at this point, let's just hope we don't have another LaQuon Treadwell situation here, and the interest fades away late. Don't count on it, especially if his next visit,
which Steve Lorenz confirms has been set
($), goes better than the first.
5-star Updates
Hot doggit, it's fun starting off this update talking about two 3-stars with genuine interest in our Wolverines. #2 comes from
CA CB Adoree Jackson
, who has released a top-10 via his twitter:
Top 10Here Yall Go ! Alphabetical Order :Florida Florida StIllinoisLSUMichigan Notre DameOklahoma StTennessee UCLA USC
— SWEET PEA(@AdoreeKnows) June 3, 2013
Jackson also caused some uproar when he tweeted this last week:
Adoree' and Jabrill On The Field That's A Scary Sight @jabrillpeppers
— SWEET PEA(@AdoreeKnows) May 31, 2013
He is not kidding. CAN YOU IMAGINE?!?! Cue "Something Scary to Think About" ideas. The current commits are already hot on his track. First from man mentioned in above tweet (who involves Hand somehow...genius!!):
In order to be a great DB you gotta play with another great DB. @adoreeknows. Add a great D.E who can pressure the QB?@thehand54 #BallGame😳
— Breezy (@JabrillPeppers) May 31, 2013
Secondly from the signal caller himself,
Wilton Speight
:
"@wiltonspeight: @adoreeknows you know what to do 😎" You Already Know bra
— SWEET PEA(@AdoreeKnows) May 31, 2013
#3 also hails from CA, in
ATH Juju Smith
, who will officially visit on Sept. 7th. I would expect a few of the commits to be on hand. We all know how that usually ends up. Will be an exciting road down the recruiting trail the rest of the way RE: 5-stars and Michigan. Buckle up!
Double Shot: NFTC and Opening Invites
Bottom row: Bunting on far left, Hand in middle. Image


Commit #1 of the '14 class,
LB Michael Ferns
, led multiple Michigan commits/targets into the dark hole of Columbus, OH to compete against some of the best talent in the Midwest. Just doesn't seem right. But this only fueled Ferns to show off what Ohio will miss out on for years to come. According to ESPN Brad Bournival, who covers the Buckeyes, the talented LB was
the top defensive performer at the event (FF to :50)
. Saying that, Ferns did not earn an invite to The Opening...yet.
*Highlights*
'14 commit
TE Ian Bunting
also partook in the festivities in Columbus this past weekend, earning himself TE MVP honors and an invite to The Opening in Oregon, Nike's premier camp where only the elite are allowed to compete.
*Highlights*
Top in-state prospect,
ATH Brian Cole
will be one the coaching staff will do whatever they can to make sure this talent does not leave their backyard. Cole was also in attendance over the weekend, Scout's Allen Trieu (he's on FIRE!) talked a little bit more about Cole's performance, putting him in his
Top 10 Underclassmen Performer's
:
"Brian Cole of Saginaw (Mich.) Heritage already holds a handful of major offers and we can see why. He has good size, but is also very smooth and caught the ball well as a receiver. Some schools are recruiting him as a defensive back, but he looked the part of a BCS caliber wideout on Sunday."
Cole's size are what stand out to me the most. At 6'2" and close to 200 lbs., it's tough to tell where he will project once he begins his college career, although doesn't seem like it matters. Not a bad problem to have, eh?
*Highlights*
In other '15 news, top WR target
George Campbell
received his invite to The Opening, making him the first selection of the '15 class.
Quality OT
More on
Jabrill Peppers
: Quite possibly the
best article I've EVER read($)
courtesy of the artist formerly known as Tremendous, Steve Lorenz and great stuff as always
from Sam Webb
. Also an appearance on
ESPN Radio
. The Sound Mind Sound Body Football Academy is about to
kick off this weekend
; Lots of Michigan targets will be on hand, and Brady Hoke speaks?!
247's Steve Lorenz also gives us some insight on
a top '15 OL target.
Sayonara Suckas
'14
CB Jalen Tabor
has released a top 5
via TomVH
, and unfortunately Michigan has not made the cut. Tabor visited a while back which caused some spectulation, but seems Hoke and co. are on the outside looking in.