With A Twist Please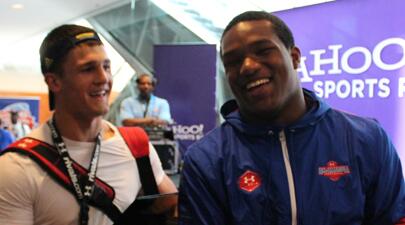 Ferns: A Recruitaholic Legend. Image
I awoke this morning, earlier than I wanted, and performed my morning routine: check
twitter
. And all the sudden it was as if it were meant to be...or because of my dog,
Woodson
. The nation's #1 prospect,
Da'Shawn Hand
, once again added a twist in his recruitment, this time a big one -- Extra lime please! -- Hand decided to eliminate a few schools, narrowing his list down to three. So who was out? No way it could be Va Tech or Michigan, could it? It could:
Da'Shawn Hand has eliminated the #Hokies and #Gamecocks and has a top 3 of #Alabama, #Florida and #Michigan. #LSU and #USC could get trips.
— Mike Farrell (@rivalsmike) June 12, 2013
*IMMEDIATELY AWAKENED* This came to a
huge
GARGANTUAN surprise; one that no one saw unraveling. Hand has been quoted saying Hokie defensive coordinator Bud Foster is
"his favorite coach."
One problem though. Hand also mentioned that he hadn't been in contact with Foster in a while. So why, you ask, has a school who has been the (predicted) front runner for THE #1 HS player not made the final cut?
Academics, that's why
:
When asked why he eliminated Virginia Tech and South Carolina and named his favorites, Hand told Elliott this:
"I eliminated Virginia Tech because they don't offer a sports marketing program. And with South Carolina, the professor just didn't wow us. I have the utmost respect for Virginia Tech and South Carolina, and their coaches, and wish them the best of luck. At Michigan, the [sports marketing] program was so impressive, I wanted to sign up right there. During my visit to Alabama, I met the dean of their [sports marketing] program, and it's an excellent program. He actually played football, and he gets it. And I haven't been to Florida, yet, but I've heard their defensive coaching staff and that defensive line with coach [Brad] Lawig and coach D.J. Durkin is amazing.

And Alabama's engineering

program was working on a $25M project when I was down there."
I've also seen it was sports management, not marketing. Either way, the elimination of Va. Tech is a major turn in Michigan's favor at this point. Florida and Alabama haven't been mentioned to much in the Hand sweepstakes and, as
247Sports National Recruiting Director JC Shurburtt
points out, Florida hasn't even received a visit (official or unofficial). But there is a good relationship between he and a few of the Florida coaches and although he hasn't been to Tuscaloosa in over a year, they have put themselves in a great spot. But as for the Wolverines:
"The Wolverines have been major players for Hand during the entire cycle as he's been on record multiple times as saying that Michigan has his "favorite coaching staff" of any school that is recruiting him. Hand had a great unofficial visit to Ann Arbor on March 15. Hand has planned for some time now to officially visit Michigan for the Wolverines home game with Notre Dame on the weekend of Sept. 7. Hand not only is high on the football aspect of Michigan, but also on the academic aspect of the institution, which will play a major part in his decision. There is no question that Wolverines assistants Greg Mattison and Roy Manning have done an excellent job building a great relationship with Hand."
It's apparent that Hand is obviously more focused on academics now that he has it narrowed down. All these young kids should take note. How 'bout this: Michigan has an entire Sports Management school!! Not to mention a man we all need to send thank you cards to in Dean Mark Rosentraub, who was
"amazing...blew me away."
ESPNWolverines Tom VH also reported the same:
Hand told me Michigan's sports marketing professor, "blew me, my coach and my dad away. My dad wanted to sign back up for school."
— Tom VanHaaren (@TomVH) June 12, 2013
Wait!--So now we can get Mr. Hand as well? Does he have any eligibility left? I wonder what his 40 time is? Are his measurements legit?
Outside of the top 3, Hand does still have a couple other schools in mind that he would like to take officials too. One, another SEC power in LSU, and the other, west coast powerhouse USC. With a decision date of December in mind, I have to say I cannot wait to cover how this all turns out. Hopefully my hard work will result in a hefty reward...by the looks of the
'Ol Crystal Ball
, it most certainly will. Even more evidence -- MGoBlog foresees a
"Handpocalypse"
in the furute. BOOM!
Rivals100 Challenge
One of the nations top camps took place over the weekend in Chi-town. Kids came from all over the country to show off their skills against top competition, most notably commmit
Michael Ferns, DB Adoree Jackson
and the big boy I just spoke of above, who made the All-Challenge Team and pulled in more
MVP honors
:
"The nation's No. 1 player turned in an impressive performance on Day 1, but he didn't have as much success on Day 2. Hand showed the explosiveness and technique that have become expected of him. One of the things that made him unstoppable was the way he got low and kept his balance while quickly getting around the corner. One of the few things Hand needs to work on is staying low on his inside counter moves, but it was clear he was the most special player at the event as he took home Defensive Line MVP honors"
Shocker.
Unfortunately, Ferns was limited due to a tight hamstring. That doesn't mean he didn't make his mark, he was able to absolutely annihilate a future opponent (o wait, they chickened out, that's right), Notre Dame commit
RB Elijah Hood:
He may have also made an impression on a possible future teammate as well. Ferns never leaves the house without his recruiting hat on. Never:
I got @adoreeknows to pop the M a few times this weekend 😏〽
— Michael Ferns (@M_Ferns10) June 9, 2013
Speaking of, Jackson was more than impressive, taking Soldier field by storm. His Team Flickr crew were crowned champions of the 7 on 7 challenge where Jackson showed off his skills on both sides of the ball. Edward Lewis of
Rivals.com
had high praise for Jackson's performance:
Five-star Adoree Jackson has been great this entire weekend. One of the most freaky athletes here.
— Edward Lewis (@EdwardLewisBSR) June 9, 2013
Want some evidence? Here's Jackson with the "headband cam" during in-game competition:
How cool is that? Wish they had this sort of thing when I was still playing.
Ahh, the glory days
.
Dueling Linbacker-jos?
A new '14 offer has gone out and it definitely spices things up a bit re: the last LB spot. The recipient this time --
MO LB Jimmie Swain
.
He joins a 3-4 person race to--basically--see who commits first.
Dwight Williams
is a west coast kid who has interest in making a visit to AA for a game this fall. Looks like he has a date, as long as Morris and Ferns approve:
For my #Michigan visit I think I'm set on Notre Dame. That's a good one or should I change that? @m_ferns10 @shanemorris_7
— Dwight Williams(@DW7_) June 11, 2013
Michigan made his top 10. A long shot here, but we all know the magic of "The Game Under The Lights."
Another, a long time offeree, Ohio native
Noah Furbush
, who paid AA a visit for the second time last week. One could say that Michigan leads here, but hard to tell. Being in OSU's backyard doesn't help Michigan's chances though and once again, could come down to a UM-OSU battle -- Surprise, Surprise!
Lastly,
Darrion Owens
out of The Sunshine State. Owens was offered a few months ago and Michigan may be to late to the party. Georgia looks to be the leader at this point.
Big Visitors
Saturday could have major ramifications once June 27th comes around. That's when
OL Jamarco Jones
will make his college decision. He was down to Michigan, OSU, Michigan State, and Notre Dame. Notre Dame is out now and Jones will take officials visits to each school, starting this Saturday. Jones is a 4-star and would be a great pick up for Hoke and co.
Looking to next year...Michigan is already hot on one running back in
Damien Harris
. But the player who could battle Harris for the top RB spot in the class is FL native
Jacques Patrick,
who already holds 17240752843 offers. Patrick is making a swing through the midwest to visit schools of interest and Michigan is on deck. This will be Patrick's first trip to AA. More good news: I don't see Patrick staying as a running back once he hits college. Saying that, I don't believe these two kids will impact each other's recruitment.
OT
Allen Trieu gives us
a preview
of this weekends Sound Mind Sound Body camp
and confirms a
new walk-on
for Michigan. Another LB,
Richard Yeargin III
included Michigan in his
top 15
. Michigan also appeared in
RB Jonathon Hilliman
's
top 6
. Here's video of
Jabrill Peppers
being fast, again.
Sam Webb updates a topic from last week's post re: CA 5-stars
Juju Smith
and
Adoree Jackson
via
The Detroit News
.
Sayonara Suckas
OH DB Darius West
has committed to the Wildcats of Kentucky. West had interest and an offer from Michigan, even visiting campus a time or two. Unbelievable what Mark Stoops is doing over in Lexington. Just take a
look at this class
--already top 5-10 on most sites.