This Week: Michigan Commits Perform
in All American Games, 2014 Commit Visits Florida, Michigan Makes The Cut, and unfortunately (for the first time) Sayonara Suckas
Recruitaholics, if feels so good to be baaaaaack! Over the break I spent a lot of time eating and doing absolutely nothing, which are always favorite hobbies of mine, visited New Orleans for a 4 day drunk fest watching my hometown Cardinals dominate the hated Gators, which I'm sure you all can relate to if you made the trip last year to see Michigan become Sugar Bowl Champions...still don't want to talk about this years bowl, my voice has just now come back from screaming at the TV, and best of all, re-upped on some sick Michigan gear, my favorite part of the Christmas season year in and year out. And now it's crunch-time in the recruiting world and I couldn't be more excited...I'm sure the feeling is mutual.
Michigan Commits Perform in All American Games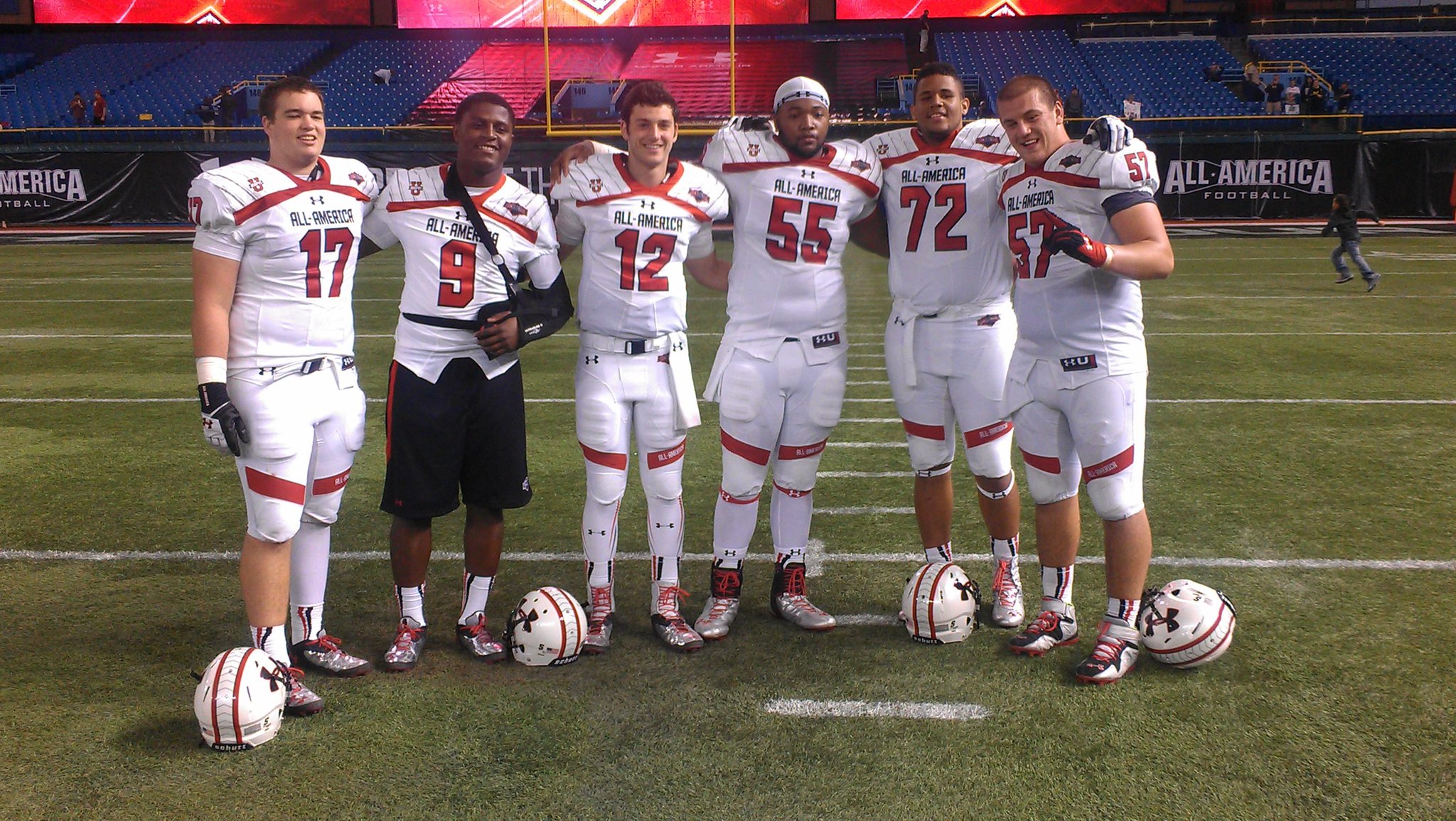 Commits Poggi, McCray, Morris, Dawson, Tuley-Tillman, and Kugler. Image via here
A lot of hype led up to the All-American games that occurred over the weekend. Included in the hype were 12 current Michigan commits, three of which didn't participate due to injuries (
OL Chris Fox, TE Jake Butt, and LB Mike McCray
) and a few top prospects with major interest in the Wolverines, including a few names of old and new.
Here's a breakdown of each player's performance
:
S Dymonte Thomas
: How many people knew I would talk about him first? Well there actually is reason behind it. Thomas was the most impressive of the four Wolverine pledges at the Army Game tallying two tackles (which was only two behind the leading tackler) and was excellent in coverage during the game. Tim Sullivan
breaks down his performance
and what Coach Mattison had to say after watching Dymonte in action
along with the video below:
DB Jourdan Lewis
was another commit who impressed during practice and in action on Saturday. He was praised for his coverage skills and physicality especially on receivers much taller than him like Ricky Seals-Jones (6'5"). Here's an example:
He was the only player mentioned by JC Shurburtt that is
ranked to low by 247
:
The Michigan commit isn't 6-foot-1, but he's 5-foot-11 and battled hard in practice this week, earning praise from the coaches and analysts. Wiltfong in particular was impressed with how he battled against the massive Aggies receivers commits like Griffin and Ricky Seals-Jones.
The performances by these two DB's mentioned above has got to excite us Maize n Blue Nation for what the future holds.
RB Derrick Green
was named captain of the East Squad after dominating the competition during the Army practices. Watching him in action live for the first time, I was very impressed with his downhill running style and burst of speed once getting to the second level, especially for a guy weighing over 220. His performance also earned him this:
Just found out i was the top overall player for the #EAST in the army all-american game!! #blessed
— D.GREEN #⃣2⃣7⃣ (@BrOoKyLn_boii27) January 6, 2013
I'd say Green more than lived up to his ranking and may have even improved it (if that's possible). But the biggest news concerning Green over the weekend is a great sign pointing in the direction of Michigan. Green told
Rivals ($)
after the Army game that he "knows where he's going" and with him deciding this month, gotta think Michigan is the school he will end up at in the end since they are his leader at the moment. Then there was this as if we need anything more to convince us Michigan is in the driver seat: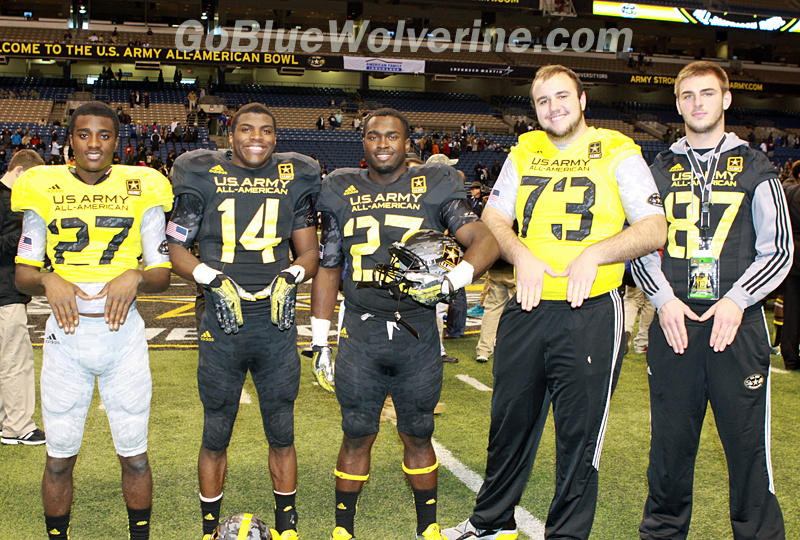 Lewis, Thomas, Green, Fox, and Butt. Image via here
All you need to know about this...Green insisted that he be a part of this picture. 'Nuff said. O wait, I've got one more to tickle your fancy: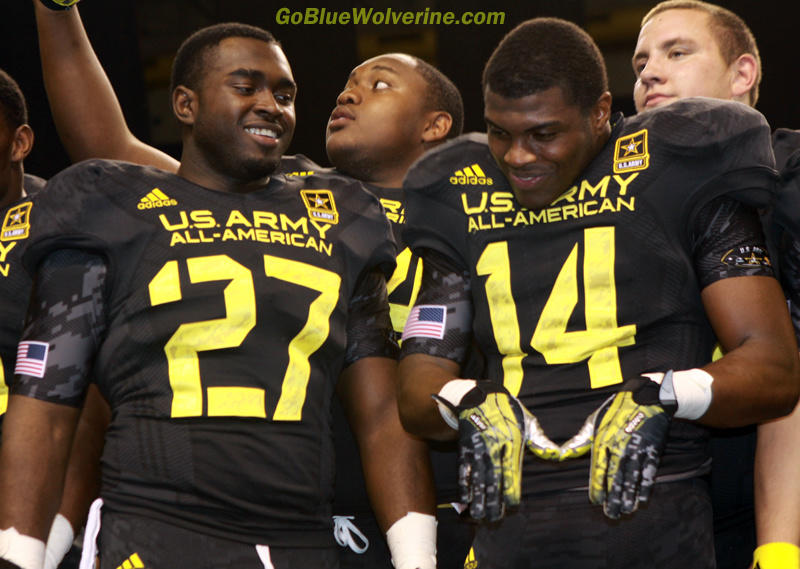 Thomas trying to convince Green to throw the "M" up. Image via here
QB Shane Morris
didn't have the greatest week on the field at the Under Armour Game. He seemed a little rusty coming his illness that kept him out for most the season. He got his fair share of snaps in the game although he didn't start, but didn't fare to well going 2-10 for 23 yards and 1 INT. One thing we did learn though, Morris can definitely take a hit:
Which is ironic after listening to what he does after a big hit in this AUAAG interview:
Three of the current commits did crack the starting lineup for Friday's UA All-American Showdown.
OL Patrick Kugler
and
OL David Dawson
were the two on offense occupying both guard spots for the White Team. Which couldn't have been easy for one reason: #1 prospect
DE Robert Nkemdiche
was lining up across from them. But good news for our future...each one had a pancake against Nkemdiche and held up very well against tough competition.
A couple other offensive lineman who played well were
OL Logan Tuley-Tillman
and prospect
OL Cameron Hunt
. Tuley-Tillman held his own at the tackle position, although he still needs a lot of work before he is ready to compete at the next level. Hunt on the other hand, may be one of the more ready OL's in the class displaying excellent technique and smarts. He will visit Michigan in the coming week's. Check him and the rest of OL/DL commits in 1on1's
here
:
The only defensive starter was
DL Henri Poggi
, who was one of more impressive DL all week long, dominating in 1 on 1's and wreaking havoc in the Black Team's backfield all game long. Poggi has a motor similar to the energizer bunny while possessing great quickness. Once he gets to Michigan, he will more than likely see time as a freshman. Poggi also formed a relationship with one of the top LB's in the class over the week...
LB Reuben Foster
is a freak athlete standing 6'2" 240 and has sideline to sideline speed. He is a 5-star across the board and arguably the top LB in the class. The White Team MVP formed a friendship with the Poggi family, most notably Mr. Poggi and seems to have interest in making a visit to AA before signing day. May be to late and chances are slim here, but getting anyone on campus gives this staff a chance to sway him away from the south; Especially with a defensive coordinator in Mattison who coached Ray Lewis for a few years and Foster has a very similar playing style. Injuries and work ethic are concerns, but no one in the country will turn Foster away.
DL Maurice Hurst
and
DB Ross Douglas
both traveled out to Cali to take part in the Semper Fidelis All-American Bowl. Hurst battled the flu all week, but when he was on the field, he performed very well. Check out both their highlights below:
WR Sebastion Larue
is a name you may remember from a while back. He had interest in the Wolverines before committing to USC in the summer. But a new development came about after Larue de-commited from USC before traveling to Florida for the UAAAG. He has indeed gotten back in touch with the coaching staff and...just read it yourself:
Spoke with Michigan coach today may set up a visit there.
— Sebastian LaRue (@SebastianLarue1) January 7, 2013
Nothing is set in stone yet, but I don't see why Larue wouldn't make the trip up to AA after having them high on his list before pledging to Lane Kiffin.
2014 Commit Visits Florida
OL Denzel Ward
was in the news a lot over the weekend after performing well at the Under Armour Combine (
his day here
), but the news of him making a visit was the main commotion. Ward, the 2nd commit of 2014, informed the coaches of his decision to visit elsewhere and no de-commitment has occurred yet so we will just have to see how this one plays out. Ward did say this about his commitment status:
Just got done working hard and I come back to tweets and threads about me and my Michigan status, tell the fam and Coach Hoke I'm All Blue!
— Denzel Ward (@DW75_) January 4, 2013
Michigan Makes The Cut
A few names you may be familiar with in regards to the QB situation for the '14 class announced their top 5's and the Wolverines made both of their lists. One being in-state signal caller
Caleb Henderson
. This top 50 prospect (247 Sports) has all the tools to be a great fit for Michigan's new pro-style scheme and would be a great get. His top 5 consisted of MSU, Michigan, North Carolina, Ohio, and Oregon reports
Scout's Don Callahan
($). I don't see much of a threat from anyone but Little Brother, with Oregon and Ohio running a spread and UNC far away from home.
David Cornwell
out of Oklahoma is the other to include the Wolverines in his top 5 along side Indiana, Alabama, Arkansas, and UCLA thanks to
ESPN's Bob Przybylo
. Cornwell is also a top 50 prospect in '14 rated just a tad below Henderson. I like Cornwell's highlight tape and upside better although others would disagree. He also had this to say about Maize and Blue Nation:
The Michigan Alumni/Fan Base is amazing, always proud of their school and support of their athletes great to see, good reason to go there...
— DC5 (@DavidCornwell5) January 7, 2013
Neither QB has an offer yet and I'm not quite sure why the staff is holding off on offering a '14 QB. Only logical reasoning: Shane Morris has a bright future and they want to make sure and offer the right guy and just focus on pulling him in.
A 5-star prospect who could end up being the top player in the '14 class also mentioned a top 5 over the break.
DB Jabril Peppers
dominated both sides of the ball for Paramus Catholic (NJ) in his junior season where he was one of two juniors to be named an All-American. His top 5: Stanford, Ohio, ND, Michigan, and LSU.
Sayonara Suckas
Most of you saw it live, but 5-star
S Leon McQuay
announced his decision to attend USC during the 4th quarter of the UA game. He chose the Trojans over Michigan and Florida St.