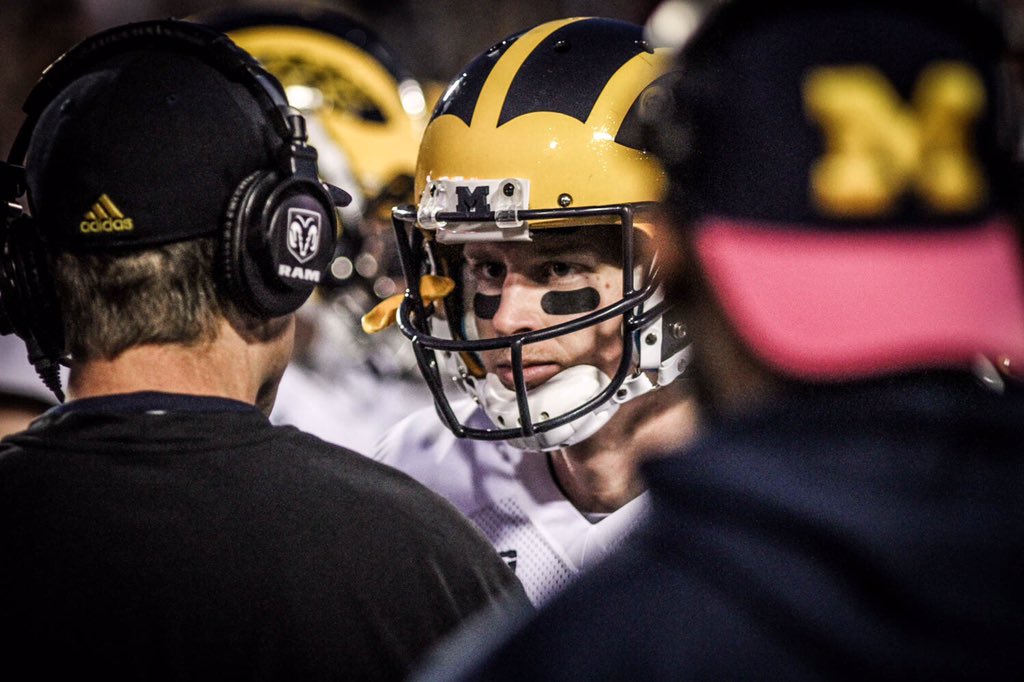 Isaiah Hole/247 Sports
The usual narrative is "one game at a time," and that is exactly what the Wolverines are doing, hopefully. I talked last week about how Indiana is a possible trap game due to the Wolverines struggles on the road, and that Indiana is a bit underrated. This again is yet another trap game for the Wolverines as they continue their quest to earn their first Big Ten Championship birth. Here is my weekly breakdown and prediction for Michigan vs. Penn State which kicks off Saturday at noon in Happy Valley.
Offense:
In Jake Rudock we trust! Seriously, had anyone said that back in September, the tears of laughter would drown the state of Michigan. How things have changed in a few months. The Wolverines are riding the hot hand of Rudock who has 777 passing yards his last two games. Rudock set a career high with 337 against Rutgers, and then set a new career high in a 440 yard effort against Indiana last week. The Wolverines must continue to keep the ball in the hands of their hot quarterback. The run game hasn't been what has been expected of them the last few weeks. The Wolverines lack a clear cut number one running back. Drake Johnson hasn't looked bad, but hasn't been great. Same goes for De'Veon Smith. Derrick Green hardly looks like the five star recruit he was, and nobody knows what is going on with Ty Isaac. Amara Darboh, Jehu Chesson, and Jake Butt have been lights out, and have just gotten stronger each week. The Wolverines need to establish a solid slot receiver option to add a fourth receiver to the equation to really throw teams off. Drake Johnson motioning into the slot would make sense, but that's not normally Jim Harbaugh's game offensively. I would love to see Grant Perry come out and make a huge impact against Penn State. I expect Michigan to try and run the ball throughout the game against Penn State, but fully expect the Wolverines to rely heavily on Rudock and the pass game.
Penn State quarterback Christian Hackenberg isn't quite having the season many were expecting him to have as he was originally projected to be a possible first round pick in the upcoming NFL Draft. He hasn't looked like that at all this season. While Hackenberg hasn't had a horrible season, he hasn't been spectacular. He's thrown for 1,992 yards and 13 touchdowns, and only three interceptions on the season, so ball control has been big for the Penn State offense. Saquon Barkley has had an outstanding freshman season rushing for 876 yards and seven touchdowns. I foresee the Penn State offense focusing heavily on running the football on the Wolverine defense that looked incapable of stopping the run last week. If Penn State is able to control the ground game, they will ultimately control the game.
Defense:
Without nose tackle Ryan Glasgow, the Wolverine defense looked almost lifeless last week. The defensive line didn't put as much pressure on the quarterback that we are used to seeing, and against the run they looked absolutely horrible. With the way Barkley can run the football, the Michigan defense is going to need to focus on stopping the run and staying strong in the pass game. Hackenberg doesn't throw many interceptions .If the defense does intercept Hackenberg, they will need to take full advantage of that. The main focus again will be finding a way to stop the run game. Chris Wormley, Taco Charlton and others on the defensive line will need to step up big time in filling in for Glasgow and show that this defense is still capable of being the elite defense they are. I expect Harbaugh and defensive coordinator DJ Durkin will have a good scheme in place for the week after what happened last week.
Penn State is going to key on pressuring Rudock and forcing him to make bad passes. With Michigan have three main targets in the passing game it will be tough for Penn State to keep up with the Wolverine pass game all night, adding a fourth option will make it very very difficult for Penn State to consistently stop Rudock and the Wolverine pass catchers. Pressure on Rudock will be the number one focus. Penn State also cannot forget about the Michigan running backs. The last few weeks the running game hasn't been great, but anyone is capable of breaking out, especially in a big game like this.
Bold Predictions:
Jabrill Peppers reaches the endzone twice. Once in the run game, and once on a receiving touchdown.
Rudock throws for over 300 again, tossing for 330 yards.
Drake Johnson busts open a huge play on a screen pass, taking it over 50-yards for a score.
Michigan defense holds Barkley under 100 yards rushing.
Hackenberg throws for 300 yards as well, but a late interception seals the game for the Wolverines.
Final Score: Michigan 31, Penn State 27